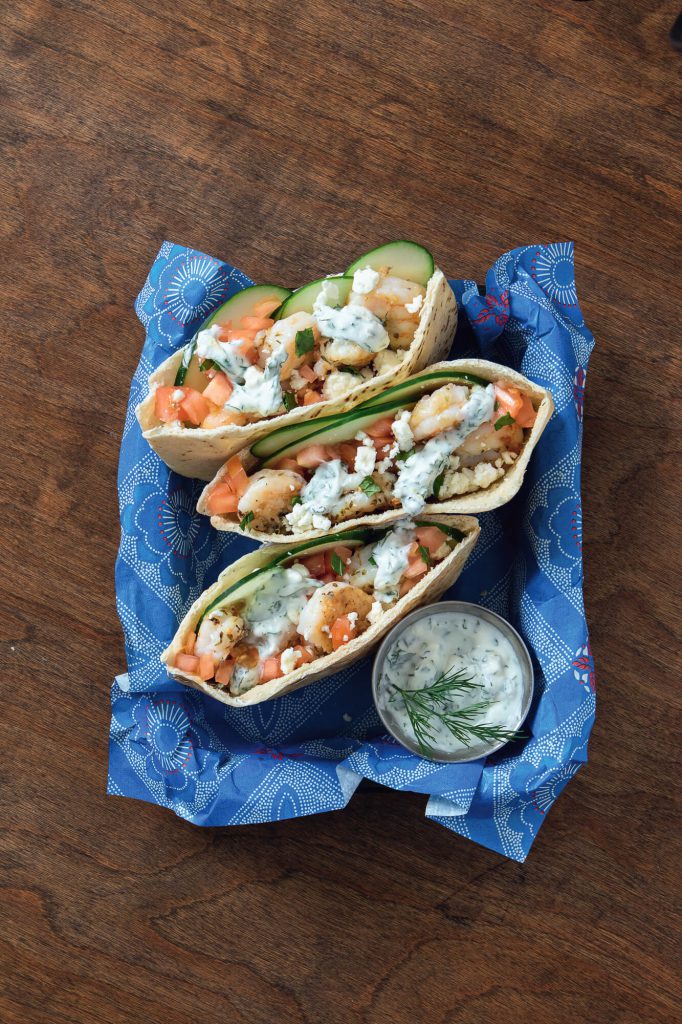 Photo credit: Photographs by Eugenia Uhl from Kevin Belton's New Orleans Celebrations, reprinted by permission of Gibbs Smith.
GRILLED SHRIMP GYROS WITH HERBED YOGURT SPREAD
Combine all ingredients and mix well. Place in refrigerate to chill until ready to use.
Serves 4
6 (12-inch) wooden skewers, soaked
4 (8-inch) pita rounds or gyro rounds
2 tablespoons Greek seasoning
2 tablespoons olive oil
1 1⁄2 pounds shrimp, peeled and deveined
Preheat oven to 350 degrees.
Combine seasoning and olive oil in a heavy- duty ziptop plastic bag; add shrimp. Seal and chill 30 minutes. Soak skewers in water 30 minutes while shrimp marinates.
Thread shrimp onto skewers. Grill, covered with lid, over medium heat (300–350 degrees) for about 5 minutes on each side, or just until shrimp turn pink. You can also cook the shrimp in a cast iron pan instead of a grill.
HERBED YOGURT SPREAD
2 cups Greek yogurt
3 tablespoons finely chopped mint
3 tablespoons finely
1 tablespoon finely chopped dill
Herbed Yogurt Spread
1 ⁄ 2 cup crumbled feta cheese
1 large tomato, chopped
1 cucumber, thinly sliced
chopped parsley
2 cloves garlic, minced
1 tablespoon lemon zest
1 tablespoon lemon juice Salt, to taste
Wrap pita rounds in aluminum foil and place in oven for 10–15 minutes to warm. When warm, spread the inside of each pita with Herbed Yogurt. Evenly add the shrimp, cheese, tomato, and cucumber to the pita pockets and serve with additional spread.