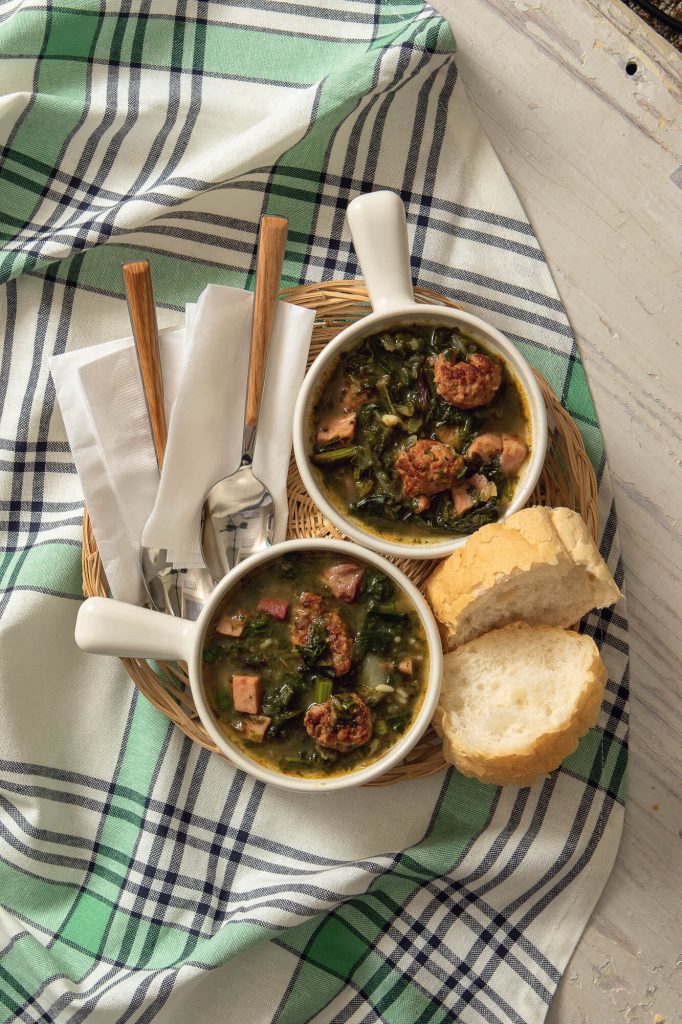 Photo credit: Photographs by Eugenia Uhl from Kevin Belton's New Orleans Celebrations, reprinted by permission of Gibbs Smith.
GUMBO Z'HERBES
1 bunch mustard greens
1 bunch collard greens
1 bunch turnip greens
1 bunch spinach
1 head green cabbage
1 bunch kale
1 bunch Swiss chard
1 bunch carrot tops
Serves 12 to 16
1 bunch beet tops
1 bunch watercress
1 gallon chicken stock
1 bunch green onions, sliced 4 cups chopped onions
6 cloves garlic, minced
1 pound ham, cubed
1 pound pickled meat (or 1 additional pound ham), cubed
1 ⁄ 2 pound hot sausage
1 ⁄ 2 cup flour
1 tablespoon Creole seasoning 1 tablespoon thyme leaves
1 teaspoon cayenne pepper
1 tablespoon filé powder
Hot rice, to serve
Wash greens thoroughly to remove dirt and grit. Chop the greens and place them in a 12-quart stock pot with stock, onions, and garlic. Bring to a boil and reduce to simmer; cook, covered, for 30 minutes. Strain greens, reserving the liquid, and keep at least 2 cups stock remaining in the pot.
Add ham and pickled meat to pot and cook for 15 minutes. Take greens and place them into a food processor and pulse for a fine chop.
Remove hot sausage from casing, making small balls, and cook in a skillet to render the fat. Once cooked, add sausage to stock pot. Add flour to the rendered fat in the skillet to make a roux. Cook roux to a peanut butter color and add to stock pot and stir.
Return greens to the stock pot along with the reserved stock. Add Creole seasoning, thyme, and cayenne pepper and stir well. Reduce heat and simmer for 45 minutes. Stir in filé and serve over rice.