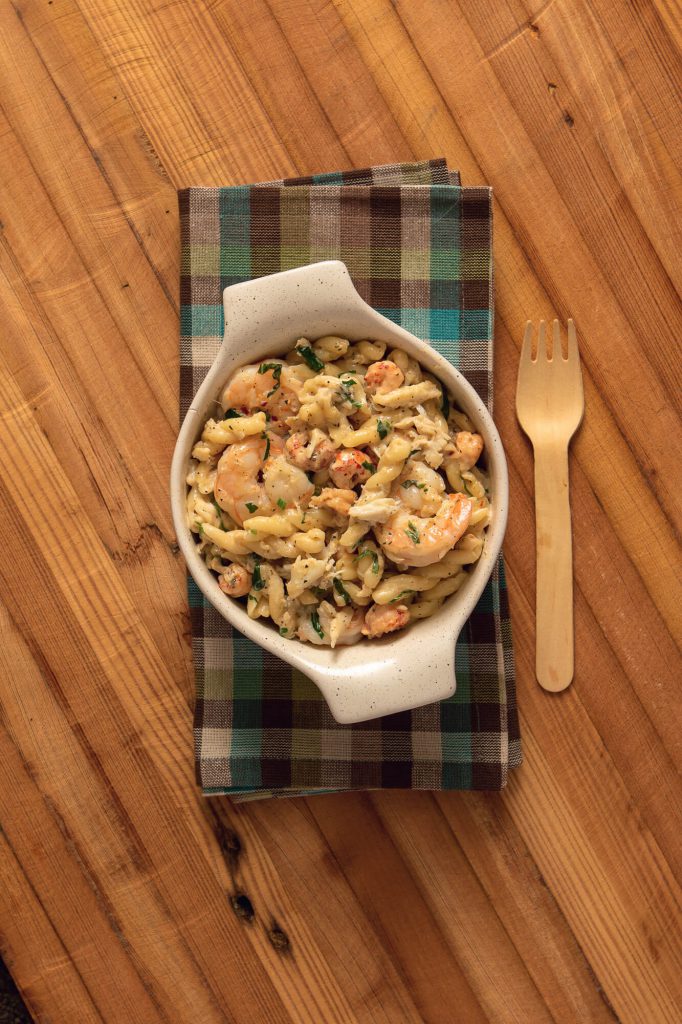 Photo credit: Photographs by Eugenia Uhl from Kevin Belton's New Orleans Celebrations, reprinted by permission of Gibbs Smith.
LOUISIANA SEAFOOD PASTA
1 pound pasta such as penne, gemelli, or ziti
2 cups heavy whipping cream
2 tablespoons chopped fresh basil
1 tablespoon chopped fresh thyme
1 tablespoon Creole seasoning
Serves 4 to 6
3 ⁄4 teaspoon crushed fresh red pepper flakes
1 teaspoon salt
1 cup sliced green onions
1 ⁄ 2 cup chopped parsley
1 ⁄ 2 pound shrimp, peeled and deveined
1 ⁄ 2 pound crawfish
3 ⁄4 cup grated Swiss cheese
1 ⁄4 cup grated Parmesan cheese 1 ⁄ 2 pound lump crab
Parsley, for garnish
Cook pasta in a large pot of boiling salted water until al dente.
Meanwhile, pour cream into large skillet. Cook over medium heat, stirring constantly, until just boiling. Reduce heat, add basil, thyme, Creole seasoning, red pepper flakes, salt, green onion, and parsley. Simmer until thick.
Stir in shrimp and crawfish and cook for
3 minutes. Stir in cheeses, blending well. Stir in drained pasta and mix well. Fold in crab.
Remove from heat. Garnish with parsley and serve.