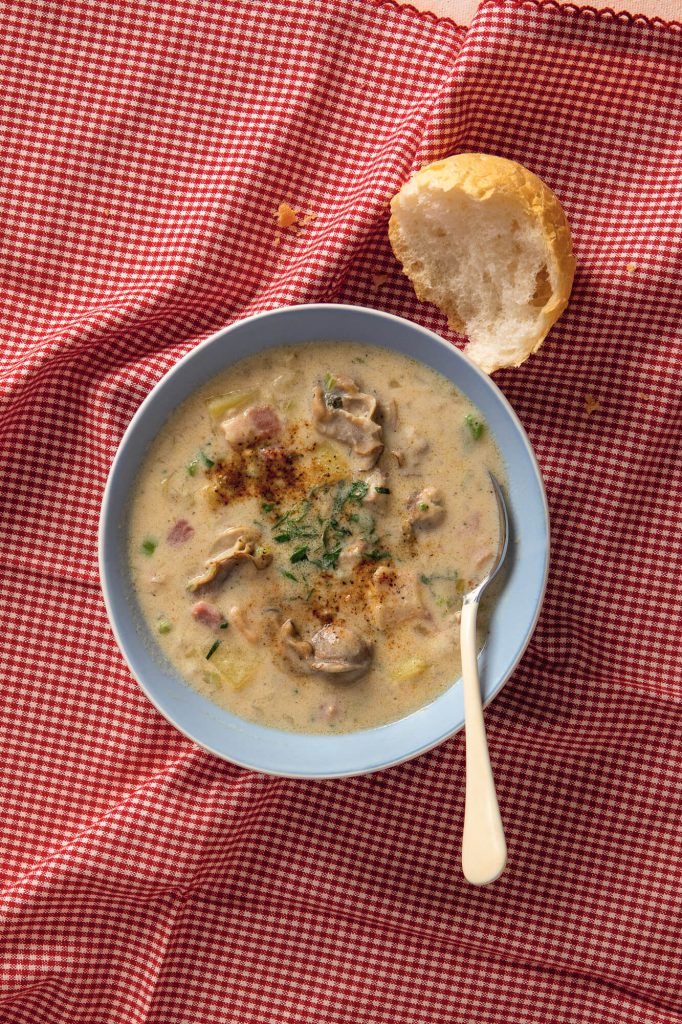 Photo credit: Photographs by Eugenia Uhl from Kevin Belton's New Orleans Celebrations, reprinted by permission of Gibbs Smith.
OYSTER CHOWDER
Serves 4 to 6
1 cup chopped celery
2 cloves garlic, minced
1 bay leaf
1 tablespoon Creole seasoning 1⁄4 cup all-purpose flour
3 cups chicken stock
1 pound golden potatoes, cut into 1⁄2-inch pieces
2 tablespoons butter
3 slices bacon, finely chopped
2 cups chopped onions
2 to 3 dozen oysters, reserved in their liquid
1 1⁄4 cups half-and-half 1 teaspoon hot sauce
1 teaspoon salt Parsley, for garnish
Bring stock and potatoes to boil in large, heavy saucepan over high heat. Reduce heat to medium low. Cover and simmer until potatoes are tender, about 10 minutes. Remove from heat, reserving liquid.
Melt butter in large, heavy pot over medium heat. Add bacon and cook until bacon begins to brown, about 8 minutes. Add onions, celery, garlic, bay leaf, and Creole seasoning. Sauté until vegetables soften, about 6 minutes. Stir in flour and cook 2 minutes. Gradually whisk in liquid from potatoes. Add potatoes, oysters with their liquid, half-and-half, and hot sauce. Simmer chowder 5 minutes to blend flavors, stirring frequently. Season with salt. Garnish with parsley and serve.