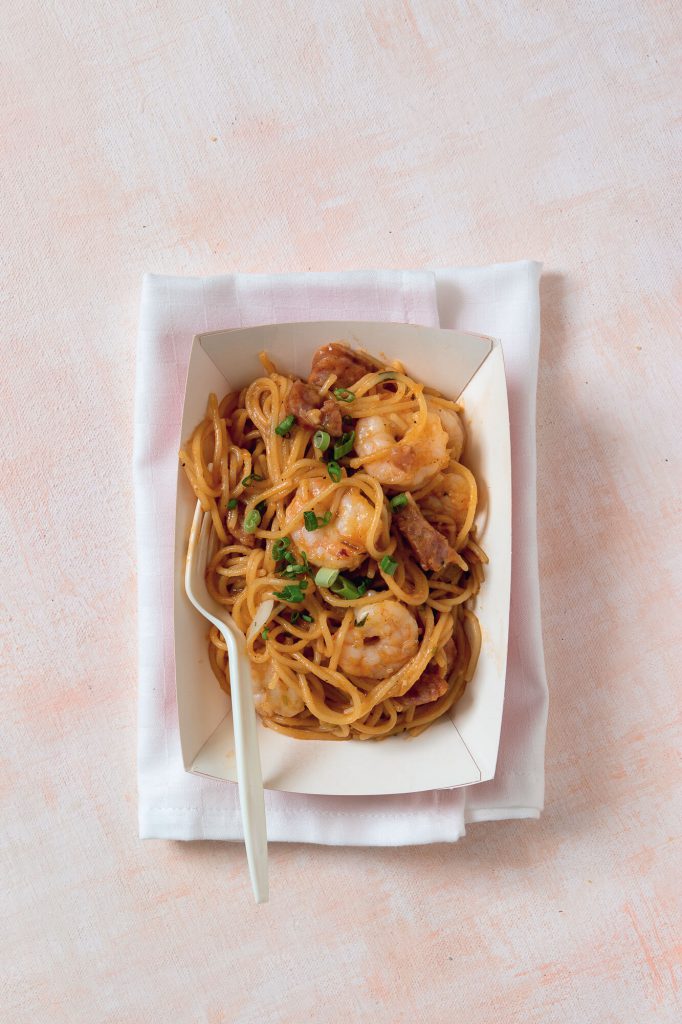 Photo credit: Photographs by Eugenia Uhl from Kevin Belton's New Orleans Celebrations, reprinted by permission of Gibbs Smith.
PASTALAYA
2 tablespoons olive oil
1 pound smoked sausage
1 cup diced onion
1 ⁄ 2 cup diced celery
1 ⁄ 2 cup diced green bell pepper 1 tablespoon minced garlic
Serves 6 to 8
2 tablespoons Creole seasoning
1 teaspoon salt
1 tablespoon red pepper flakes
1 tablespoon chopped fresh oregano
1 ⁄4 cup tomato paste
1 pound thin spaghetti, broken
4 cups chicken stock
1 pound shrimp, peeled and deveined
1 ⁄4 cup parsley, chopped
1 ⁄ 2 cup sliced green onions
In a Dutch oven, heat olive oil over medium heat and add sausage. Cook for 2 minutes then add onion, celery, and bell pepper, cooking
for another 5 minutes. Stir in garlic, Creole seasoning, salt, red pepper flakes, and oregano. Stir in tomato paste, then after 1 minute, stir
in spaghetti and mix well. Add stock, stir, and bring to a boil. Cover, reduce heat low, and cook for 10 minutes. Stir in shrimp and cook for 5 minutes. Remove from heat, and stir in parsley and green onions. Cover and let rest 5 minutes before serving.