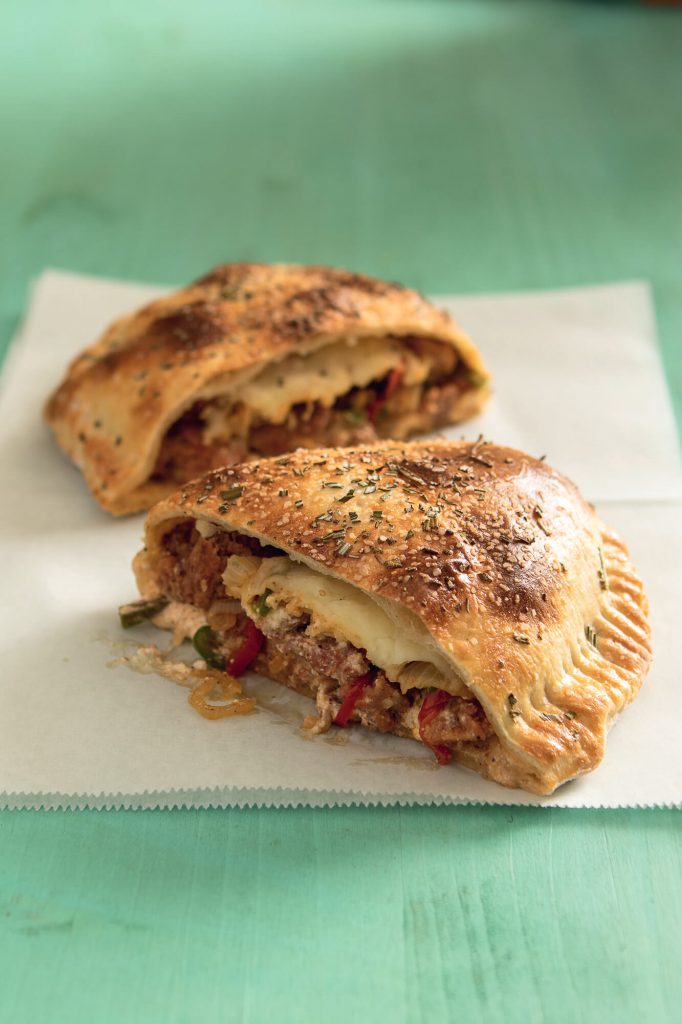 Photo credit: Photographs by Eugenia Uhl from Kevin Belton's New Orleans Celebrations, reprinted by permission of Gibbs Smith.
SAUSAGE AND PEPPER CALZONE
1⁄2 pound hot Italian sausage, casings removed
1 ⁄ 2 cup thinly sliced red bell pepper
1 ⁄ 2 cup thinly sliced green bell pepper
1 cup thinly sliced yellow onion 3 cloves garlic, minced
Serves 4
1 teaspoon Creole seasoning
1 teaspoon kosher salt
1 pound store-bought frozen pizza dough, thawed and room temperature
All-purpose flour, as needed
1 ⁄ 2 cup ricotta cheese
1 1⁄2 cup grated mozzarella cheese 1 large egg
1 tablespoon water
1 ⁄ 2 teaspoon finely chopped fresh rosemary
Sea salt, to taste
Position a rack in the center of the oven. Put a pizza stone or an upside down baking sheet on the rack and heat the oven to 450 degrees. Line a pizza peel or a flat baking sheet with parchment paper.
In a large nonstick skillet, cook the sausage, peppers, onion, and garlic over medium-high heat, stirring and breaking up the sausage, until the sausage browns and the peppers and onion soften, about 5 minutes. Season with Creole seasoning and salt. Remove from the heat and let cool slightly.
Divide the dough into 4 equal pieces. Lightly flour a work surface. Using your hands or
a rolling pin, stretch each piece into a 6- to 7-inch round.
Divide the ricotta among the 4 rounds, placing it on one half and leaving a little room around the edge. Top with the sausage and pepper mixture and the mozzarella. Fold the dough in half over the filling. Pinch and crimp the edges of the dough with a fork or your fingers to tightly seal.
In a small bowl, whisk the egg with water. Brush over the calzones and sprinkle with the rosemary and a little sea salt. Transfer to the parchment-lined peel. Slide the parchment and calzones onto the hot pizza stone and bake until golden on top and bottom, 10–14 minutes, rotating halfway through baking.