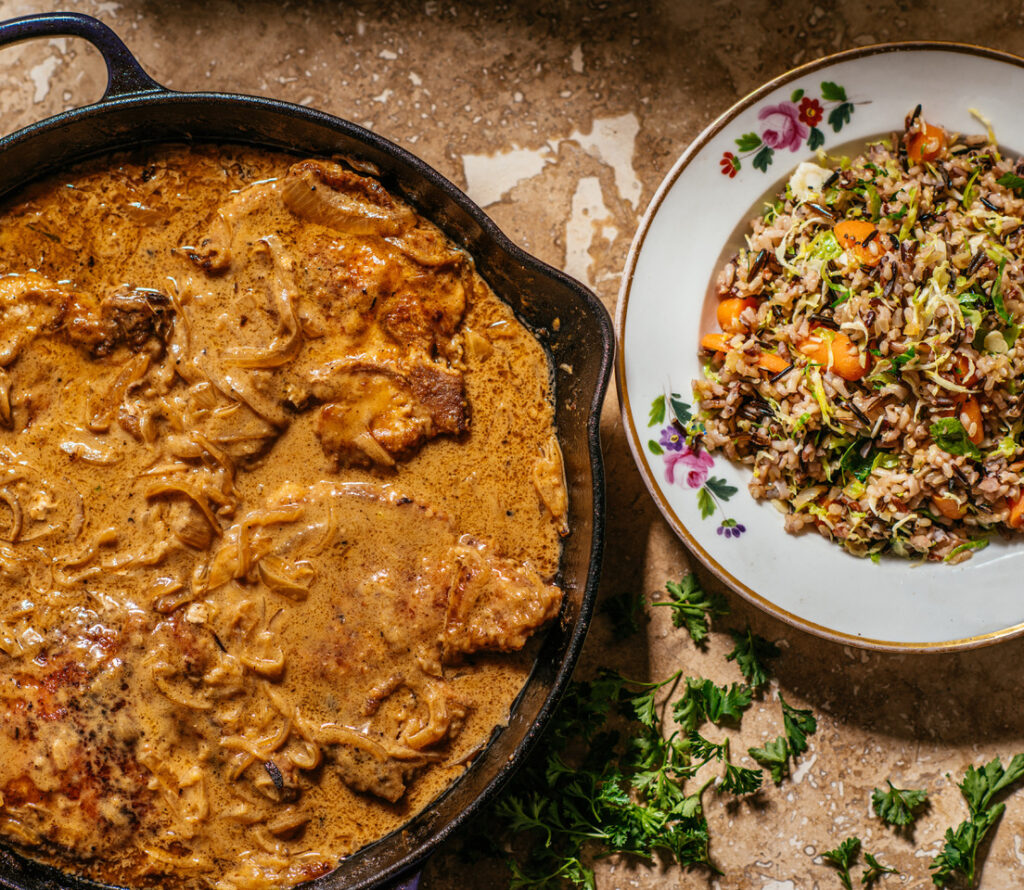 Smothered Pork Chops and Wild Rice Plate Lunch
Makes 4 servings
2 sweet onions, thinly sliced
2 tablespoons butter
1 1⁄2 cups chicken stock
1⁄4 cup heavy cream
Chopped fresh parsley, for garnish Wild Rice (page 40)
4 thick-cut bone-in pork chops
3 to 4 tablespoons Creole seasoning Kosher salt, to taste
1 cup all-purpose flour
2 teaspoons garlic powder
1⁄4 teaspoon chili powder
1⁄4 cup vegetable oil, plus 3 tablespoons
more, divided
Season pork chops all over with Creole seasoning and salt. In a shallow dish, mix together flour with garlic powder and chili powder. Coat pork chops in flour, shaking off excess. Reserve 2 tablespoons seasoned flour.
In a large, heavy skillet over medium heat, heat 1/4 cup oil until shimmering. In batches, cook pork chops until golden, 4–5 minutes per side. Transfer to a plate.
Reduce heat to medium low, pour in remaining oil, add onions, and cook until very soft and slightly caramelized, 15–20 minutes. Add butter and let melt, then sprinkle in reserved seasoned flour. Cook until flour is no longer raw, about 1 minute. Stir in stock and cream and bring to a simmer. Stir until sauce begins to thicken, about 5 minutes.
Return pork chops to skillet and cook until pork is cooked through, about 10 minutes more. Taste and adjust with salt to taste. Garnish with parsley and serve with Wild Rice.
Wild Rice
Makes 8 to 10 servings
2 cups uncooked wild rice blend 8 cups chicken stock
1⁄4 cup butter, sliced
1 onion, chopped
1 cup baby carrots, thinly sliced
2 cups Brussels sprouts, shaved
4 cloves garlic, minced
1 teaspoon Italian seasoning
1⁄4 teaspoon ground black pepper Kosher salt
Add wild rice and stock to a large saucepan and bring to a boil over high heat. Lower heat to low and cover. Let rice simmer for 45 minutes, stirring halfway through. When rice is done cooking, strain any remaining liquid from the rice.
While the rice is cooking, add butter to a large, deep skillet over medium-high heat. Once butter is melted and starting to bubble, add onion and carrots. Stir to combine. Cover and cook 5 minutes, stirring occasionally. Add Brussels sprouts, garlic, Italian seasoning, and black pepper, stirring another 2 minutes until softened.
Fluff wild rice with a fork and add to skillet with vegetable mixture, stirring to incorporate. Taste and season with salt as needed.
Note: Vegetable alternatives include chopped bell peppers, broccoli florets, cut green beans, and mushrooms.
2 cups yellow cornmeal
1 teaspoon kosher salt
1 teaspoon baking powder 1 cup water
Makes 4 servings
2 tablespoons vegetable oil Milk
Maple or cane syrup